One of my favorite questions to ask my students is, "if you could be any animal in the world, what would you be and why?"
Growing up, my mom used to always say, "I wish I were a bear, I would just hibernate all winter." I've been searching for an excuse for my avoidance of social media, blogging, and reaching out to old friends. Yet, every time the word "hibernating" comes to mind. I fully admit that I have been hibernating, staying focused on my day-to-day life and avoiding conversations beyond that. Part of this hibernation stems from frustration, some stems from aggravation. Regardless of the reason, I just haven't found the energy to put into this blog, to write down my thoughts and put to words how I have been feeling. (If you have reached out, know that I truly value your support, words, and advice, and will try to be better at responding.)
Health Update: What I've Been Up To
In my last blog post of 2020, I informed everyone that against my better judgements I would be taking a .35mg progestin only birth control pill. Well, I did and if I could turn back time I would stop myself from making that decision.
Two months into the pill, I began having a ton of side effects. My PCP was shocked that .35mg could affect me so much. The pill screwed with my IBS, GI issues, acid reflux, acne, and mental health. One morning I woke up with chest pain, and soon blacked-out and fainted. I came right to, but spent the day in the ER being examined, where no one could tell me what happened for everything appeared 'normal.' Two weeks later, I felt faint again and my parents took me back to the ER again, for my PCP would not see me in-person do to the pandemic. The only thing that is worse than being in the ER once, is being in there a second time. Both times the only explanations were acid reflux and "anxiety."
The only explanation that I can develop is that the pill was to blame, or at least, the side effects of the pill. My PCP felt that way too, for she advised me to stop the pill and find a new Endo specialist. Yet, she couldn't explain medically that the pill was to blame, for there is no previous data like my situation.
I did not have any hesitations with stopping the pill, and did so immediately after my conversation with my PCP. The only positive thing that the pill actually did was reduce my period immensely. I truly wish the pill didn't have any of those horrible side effects, for I didn't have a heavy period two months in a row.
Mental Health Update: Where I've Been
The past six months have truly felt like a rollercoaster. I fell into cycles: researching, finding a doctor, getting my hopes up, being disappointed, finding a new doctor. I had three different doctors tell me that I should be fine, and everything appears normal. One doctor told me I had endo but not adeno, the others had no ideas. This alone would be enough to affect me mentally. But put all of this on top of a pandemic, an immune deficiency, and a permeant quarantine, and you have my current state of mind.
Many days I still get up, get work done, and don't mind being home. But dealing with my health and these newly developed health issues, make those daily tasks harder to accomplish. Some days I find myself wanting to stay in bed and watch TV. Many of my friends and family constantly say to me, "I don't know how you have been home everyday for 10 months" or something similar. But if I am being honest, I'm not sure either. I've done well adjusting, and I have plenty of socialization via zooms and my household. But it's still not as easy as it sounds.
Future Health Update: Where I'm Headed
Following my PCP's advice, I have reached out to another Nook Doctor in my area. After our first telehealth visit, he suspects that I have adeno and not endo. He believes that at one point I did have endo, but almost all of it had been removed in my past excision surgery.
This new doctor sounds promising; he is very knowledgeable and is willing to work with me. Yet, I am afraid to trust his opinion, for I keep falling into an endless cycle of doctors. Every doctor seems to have an opinion, and every single one believes my past doctors were wrong and didn't know what they were thinking. As a result, it's hard for me to trust new doctors' opinions.
I have an in-person follow-up and exam scheduled for the end of February, hopefully, that will provide me with more clarity on the overall situation So until then, my job is to simply take one day, one thing at a time, and put 'one foot in front of the other.'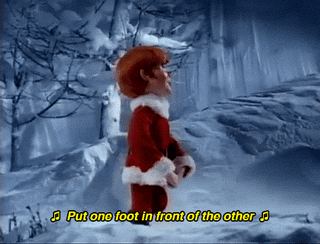 ---
In other news, I am thinking about starting a food blog with my mother to share lifestyle tips, hacks, and recipes for living gluten and dairy free. What are your thoughts? Would you be interested in reading something like that?